We will meet on Saturday, May 28th at 2:15 p.m. by the entry point for Capitol River Cruises at Washington Harbour in Georgetown.  (The Boat will board at about 2:45 p.m. and will depart the dock at 3 p.m.)
Spouses, family members and friends are welcome to the boat ride.
The boat ride will last for about 45 minutes.
Tour Departure Location
Capitol River Cruises
Washington Harbour Georgetown
3050 K Street, N.W.,
Washington, DC 20007
End of 31st St across from Fiola Mare on the dock.
See map below: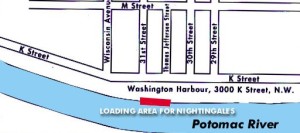 We'll travel on the Nightingale from Capitol River Cruises, which you can reach via tel. 301-460-7447 or e-mail: capitolrivercruises@gmail.com
Please review Capitol River Cruises Frequent Asked Questions (FAQ).
DIRECTIONS:
Parking is available at Washington Harbour Parking Garage.  The Washington Harbour Parking Garage is located at 3000 K Street, NW — in the East Building of Washington Harbour.  The entrance is on K Street, NW — between 30th Street, NW and Thomas Jefferson Street, NW.
The nearest Metrorail stop is Foggy Bottom/GWU (Orange and Blue Lines).  For those who'd like the exercise, the walk from Foggy Bottom Metrorail station to Georgetown takes less than 20 minutes.  [Metrorail Map]
Find your most convenient Metrorail/Metrobus route.  The 38B Metrobus travels along M Street in Georgetown, riding between Farragut Square (Downtown) and Ballston (Arlington, VA).
The DC Circulator Bus runs between Georgetown and Union Station and runs between Dupont Circle and Rosslyn.  Both of these DC Circulator Bus routes travel on M Street in Georgetown.
A refreshment bar aboard each boat serves sodas, spirits, beer, wine and snacks.
The boat has a restroom.
Here are the Boat Ride ticket prices:
$25 – Adults Ages 13+
$15 – Children Ages 3 – 12
$21 – Senior/ Military – Must present valid ID upon arrival • Seniors Age 62+
Online Ticket Purchases
You can pay when you board or you can pay online.
If you purchase your ticket(s) online, please:
Click on the Book Now button
Select Sighting Cruise Admission (the box with a photo of the Lincoln Memorial)
Select ticket(s) for Saturday, May 28th
Select 3 p.m. ride