We will meet on Saturday, September 16th at 3:15 p.m. by the entry point for Capitol River Cruises at Washington Harbour in Georgetown.
Afterward, we will have dinner at a Chinese restaurant in Georgetown, the Harmony Café — 3287 M Street, NW — which CNN has rated one of America's top 50 Chinese restaurants.  (The Harmony Café's prices are reasonable.)
Spouses, family members and friends are welcome to the boat ride and the dinner.
The boat will leave from Washington Harbour in Georgetown, near the intersection of 31st and K Streets, at the end of 31st Street on the water.  That is where we will meet.  (See map of the dock.)
We'll travel on the Nightingale or the Nightingale II, from Capitol River Cruises, which you can reach via tel. 1-800-405-5511 or tel. 301-460-7447 or e-mail: crcruises@comcast.net
The boat ride will last for about 45 minutes. The boat will depart from the Washington Harbour complex in Georgetown, at 31st and K Streets — at the end of 31st Street on the water.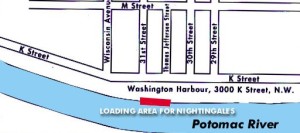 DIRECTIONS:
The nearest Metrorail stop is Foggy Bottom/GWU (Orange and Blue Lines).  For those who'd like the exercise, the walk from Foggy Bottom Metrorail station to Georgetown takes less than 20 minutes.  [Metrorail Map]
Find your most convenient Metrorail/Metrobus route.  The 38B Metrobus travels along M Street in Georgetown, riding between Farragut Square (Downtown) and Ballston (Arlington, VA).
The DC Circulator Bus runs between Georgetown and Union Station and runs between Dupont Circle and Rosslyn.  Both of these DC Circulator Bus routes travel on M Street in Georgetown.
A refreshment bar aboard each boat serves sodas, spirits, beer, wine and snacks. We buy our own tickets at the dock:
– $15 per adult
– $7 per child (3-12)
– Under 3 years – Free
If you buy your ticket online you will save a dollar on the adult fare.  (Be sure that you select the correct date — Saturday, September 16th.)